The Challenge
Finding and applying to a job opportunity and knowing that you have met all requirements is rare and difficult to achieve because the requirements were not well defined in the first place. This then leads to blind applications against defined requirements. Similarly, having to drop your CV off on numerous employers websites or emails can be time consuming and slow to getting you the ideal job
My Credentials Jobs
Whilst storing your credentials, we extract some data that allows automatic matching of your credentials to the requirements defined in job opportunities that require such credentials. As such, our systems are effective when searching and applying for Job vacancies in Nigeria that require the mandatory submission of electronic credentials as supporting documents.
Submitting job applications via mycredentials.ng helps increase your chances by allowing targeted applications. This is because we match the credentials requirements defined in a job vacancy to your credentials stored on the registry.
mycredentials.ng is an artificially intelligent service that searches multiple sources looking out for credentials based job opportunities in Nigeria that require the credentials to be actively stored within the electronic vault. These curated job opportunities together with any opportunities offered directly by the receiver are then published on the mycredentials.ng matching service thereby making them available to members who have their credentials stored in our secure electronic vault.
It works such that more opportunities are automatically be listed as more credentials are stored in the vault and the wider the diversity of the credential types. Submission of your credentials as supporting documentation is only possible where all requirements are met for the opportunities listed.
Gain immediate traction in your job or board search by reaching the right people at the right time—and building important connections with recruiters that can last throughout your career.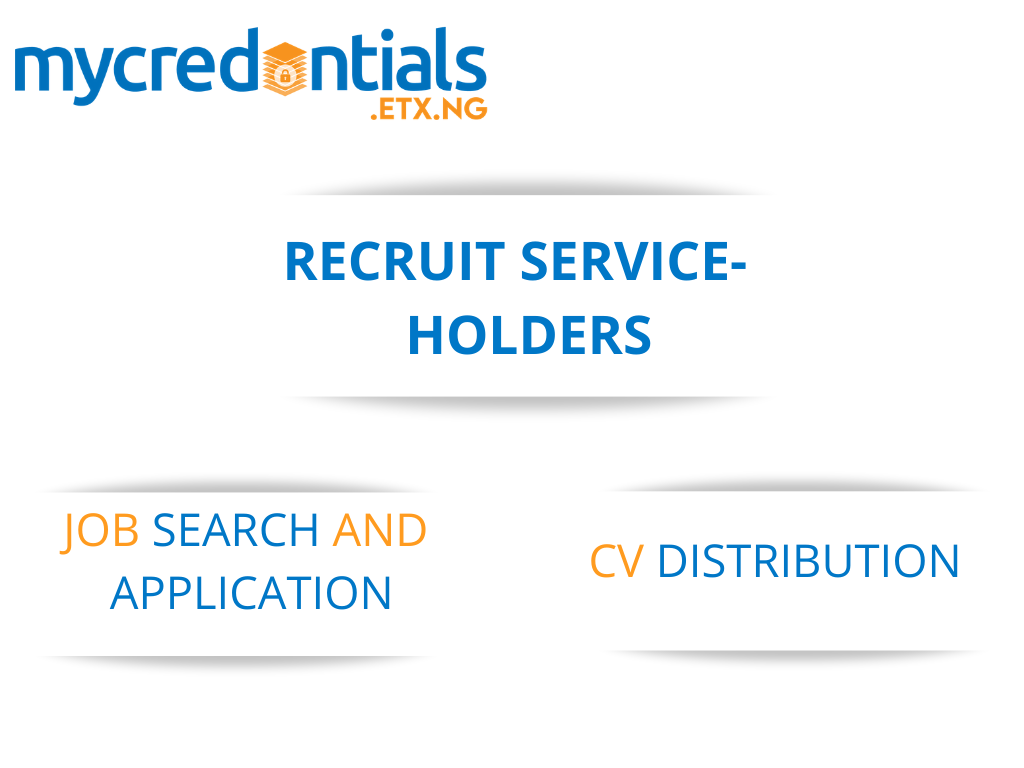 Job Search and Application
Mycredentials.ng is an intelligent system that makes the job hunting process easier for job seeker in Nigeria.
This is done through a matching process where submitted credentials are screened to match available vacancies posted on our job board.
Our system, Mycredentials.ng, eliminates the manual process of regularly submitting job applications. It provides the user the opportunity to remotely submit job applications to reputable companies.
Upon submission, matching and pairing, the system notifies qualified applicants on opportunities that match their submitted credentials.
CV DISTRIBUTION (UNSOLICITED RESUME)
It is a known fact that some reputable companies in Nigeria don't publish their job vacancies for the public. How then do they hire, you might ask?
Simple: through unsolicited CV submission.
MyCredentials has made it easier, now more than ever to apply to these companies.
All you have to do is submit a copy of your CV with us @mycredentials.ng and have it distributed on your behalf to some of Nigeria's A-list companies.
Feature and Benefits
Submission is only possible where there is a match between a job requirement and the stored credential.
Increase your chances of success by applying to only job vacancies with requirements that match your credentials.
Post your CV to our network of recruiters and employers in a few clicks using or CV/Resume distribution service in Nigeria. We can forward your resume to hundreds of employers and Job boards in Nigeria via the CV forwarding service in Nigeria.
Our systems help you automatically search the latest job vacancies in Nigeria across all industries and business sectors by using the information on your stored academic credentials in Nigeria
Upload and store your credentials and we'll find job opportunities in Nigeria to match your credentials automatically. A single of supporting documents is shared and used across multiple job applications saving you time and money
Mycredentials.ng is a smart tool which can be used to help search, find and apply to job vacancies in Nigeria automatically
Take the next steps by using a smarter way to search and apply for jobs in Nigeria. Mycredential jobs allows you to apply for only the jobs requirements that meet your credentials
Credentials provide proof of your skill or competency and demonstrate that you meet a certain criteria. We do this automatically.
We are the leading credential based job posting site in Nigeria. Search for the latest employment jobs and other solutions to get the perfect job that you want.
For speculative applications, we can automatically distribute your employment package comprising of CV/Resume and supporting documentation to hundreds of employers in Nigeria.
Post your CV to our network of recruiters and employers in a few clicks in the CV submission and distribution service. Save time as your CV goes directly to the inbox of screened and approved recruiters.
Gain access to the Nigeria's largest recruiter network with 200+ recruiters whilst tapping into up to 70% of jobs that are never advertised.
Request Additional Information For This Service