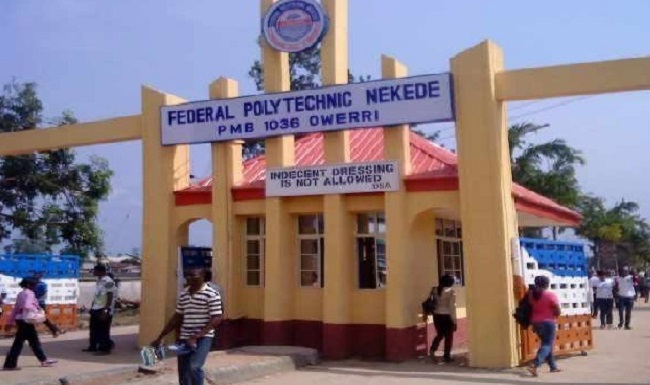 The Federal Polytechnic Nekede in Owerri, Imo State, has indicated its intention to expel instructors and students who have committed behaviors that have tarnished the institution's promotion and maintenance of academic quality.
Dr Michael Chidiebere Arimanwa, Rector of the Polytechnic, stated this while updating reporters on his three-year tenure as Chief Executive Officer of the university.
Arimanwa, who is also an Anglican Priest, stated that a committee has already been formed to investigate academic frauds such as plagiarism and take appropriate disciplinary punishment.
"I developed a vision and purpose statement with goals and targets encompassed in five categories to assure excellent academic standards among staff and students," he said.
According to the Rector, the school is pleased with its decline in ranking in Internet Communication Technology (ICT) in Nigeria from 17 to 6.
He stated that the current decline in ranking is due to the management's commitment to changing the school.
He saw the latest reduction in the ranking as a positive development, stating that it validated his tenacious efforts to advance technology in the institution since taking office.
He affirmed the institution's strong determination to continue moving in the same path until it reached No. 1 as the finest in ICT compliance in the country.
The Polytechnic Rector cited a lack of funding as one of the primary issues impeding the institution's quick growth and development.
"Some projects that would normally take a year to complete would take two to three years before completion," he stated.
Arimanwa recalled the dreadful COVID-19 Pandemic that decimated the university last year, regretting that the institution lost an entire academic year, resulting in the introduction of visual learning for students.
The Rector announced that the Institution's 33 programs had been accredited under the supervision of the Nigerian Board of Education NBE.
He stated that the successful accreditation of the 33 programs had increased the institution's capacity and strength in producing competent and qualified people in the country's growth.
In terms of accomplishments, the Rector stated that, despite the hurdles, the Institution under his capable leadership had achieved tremendous success in both human and infrastructural growth.
According to him, the Institution had conducted seven capital projects out of a total of 38 projects, with 26 being carried out by the federal government's TETFund.
Source: Nigerian Tribune