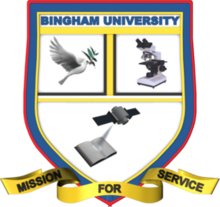 Bingham University matriculated 1,764 undergraduate and postgraduate students admitted during the 2020/2021 academic session
For the 2020/2021 academic year, Bingham University matriculated 1,764 new undergraduate and postgraduate students into various undergraduate and postgraduate programs across its 11 faculties.
There were 1,377 undergraduates and 387 postgraduates in the group.
While congratulating the matriculants on their acceptance into the University, Vice-Chancellor Prof. W. B. Qurix mentioned the College of Medicine and Health Sciences and the Faculty of Science and Technology as having the most undergraduate students, with 530 and 239, respectively.
Social Sciences has 232 students, Administration has 122, Pharmacy has 87, Law has 76, Environmental Sciences has 59, Arts has 22 and Education has 10.
Prof. Qurix stated in his remarks that the University would continue to strive for excellence in all areas in order to achieve its vision of becoming a world-class university in knowledge and skills while instilling moral and spiritual values, as well as its mission of producing graduates who are excellent in knowledge, character, and skill for self-reliance in the fear of Christ.
The Vice-Chancellor went on to say that the University today has 64 academic programs, with 46 of them being founded in the last three years, all to the glory of God.
The University continued to engage with prominent foreign and local institutions, according to Qurix, because of the benefits of collaboration and transnational learning.
Sumy State University in Ukraine, Liverpool School of Tropical Medicine (LSTM) in the United Kingdom, University of Wolverhampton in the United Kingdom, and the Global Studio for African Centered Architecture, among others, are among the institutions with which the University is partnering.
"Anyone caught involved in cultism, drug abuse, indecent dressing, among others would be sanctioned accordingly", he warned.