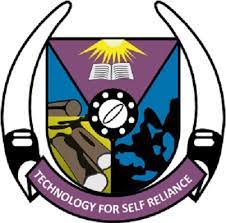 Federal University of Technology, Akure (FUTA) is now selling application forms for admission into pre-degree program for 2021/2022 academic session. FUTA Pre-degree Science (PDS) Program is full-time and will run for One Academic Session of Two (2) Semesters. See the courses available requirements and how to obtain the FUTA pre-degree form below.
Applications are invited from qualified candidates for admission into Pre-degree Science Program, Centre for Continuing Education, The Federal University of Technology, Akure.
FUTA Pre-degree Science (PDS) Program is full-time and will run for One Academic Session of Two (2) Semesters.
During the Programme, candidates will have the opportunity to write the University Tertiary Matriculation Examination (UTME) and MAY seek admission into the following Schools in the University:
SCHOOL OF:
Agriculture and Agricultural Technology (SAAT)
Engineering and Engineering Technology (SEET)
Environmental Technology (SET)
Earth and Mineral Sciences (SEMS)
Sciences (SOS)
Health and Health Technology (SHHT)
Computing (SOC)
FUTA Pre-Degree Admission Requirements
Candidates should possess five Credit passes in WASC, NECO, GCE or equivalent at not more than two sittings in relevant subjects from:
ENGLISH LANGUAGE
MATHEMATICS
PHYSICS
CHEMISTRY
BIOLOGY/AGRIC. SCIENCE
ECONOMICS
TECHNICAL DRAWING
GEOGRAPHY
FUTA Pre-Degree Courses
ADMISSIONS COULD BE SOUGHT INTO THE FOLLOWING SCHOOLS & DEPARTMENTS IN FUTA:
SCHOOL OF AGRICULTURE AND AGRICULTURAL TECHNOLOGY (SAAT)
Departments:
Agricultural Resource and Economics (ARE)
Agricultural Extension and Communication (AEC)
Animal Production and Health (APH)
Crop, Soil and Pest Management (CSP)
Ecotourism and Wildlife Management (EWM)
Fisheries and Aquaculture Technology(FAT)
Food Science and Technology (FST)
Forestry and Wood Technology (FWT)
SCHOOL OF ENGINEERING AND ENGINEERING TECHNOLOGY (SEET)
Departments:
Agricultural and Environmental Engineering (AGE)
Civil and Environmental Engineering (CVE)
Computer Engineering (COE)
Electrical and Electronics Engineering (EEE)
Materials and Metallurgical Engineering (MME)
Mechanical Engineering (MEE)
Mining Engineering (MNE)
Industrial and Production Engineering (IPE)
Information and Communication Technology (ICT)
SCHOOL OF ENVIRONMENTAL TECHNOLOGY (SET)
Departments:
Architecture (ARC)
Building Technology (BDG)
Estate Management (ESM)
Industrial Design (IDD)
Quantity Survey (QSV)
Urban and Regional Planning (URP)
Surveying and Geo-informatics (SVG)
SCHOOL OF EARTH AND MINERAL SCIENCE (SEMS)
Departments:
Applied Geology (AGY)
Applied Geophysics (AGP)
Marine Science and Technology (MST)
Meteorology and Climate Science (MCS)
Remote Sensing and Geoinformatics (RSG)
SCHOOL OF SCIENCE (SOS)
Departments:
Biochemistry (BCH)
Biology (BIO)
Biotechnology (BTC)
Chemistry (CHE)
Mathematical Science (MTS)
Microbiology (MCB)
Physics (PHY)
Statistics (STA)
SCHOOL OF HEALTH AND HEALTH TECHNOLOGY (SHHT)
Departments:
Human Anatomy (HUA)
Biomedical Technology (BMT)
Physiology (PHS)
SCHOOL OF COMPUTING (SOC)
Departments:
Computer Science (CSC)
Cyber Security Services (CYB)
Information Technology (IFT)
Information Systems (IFS)
Software Engineering (SEN)
How to Apply for FUTA Pre-Degree Admission Form
1. Candidates are to visit www.futa.edu.ng. Click on CCE Portal and PDS Application form to Create an account.
2. Login into your account with your Username and Password. Click on Payment to generate invoice for the application form.
3. Candidates are to pay the application fee of Fifteen Thousand Naira (N15,000.00) excluding bank charges on the Remitta platform only in any bank.
4. Candidates are to complete and print the PDS Application Form online after payment by logging on to Federal University of Technology, Akure's website www.futa.edu.ng and click on the online PDS Application Form.
5. Submit the complete Online Application Form and print out a copy of the Screening Scheduled slip.
6. Screening will hold on a date to be later announced
7. The listed helplines could be contacted for clarification on issues bordering on the Programme during office hours only: 07061162814,08074254379
CLOSING DATE FOR SUBMISSION OF APPLICATION FORMS: Not Specified.